Great weekend activites
Mr Bean's Holiday
Yesterday afternoon, I went to Golden Screen Cinema at IOI Mall to watch Mr Bean's holiday with my friend, Simon. In my opinion, this movie is quite funnier compare to first mr bean movie that shown in 1997. The part 1 mr bean movie is talk about art gallery in Los Angeles, USA. The part 2 movie is about mr bean going to Cannes, France for holiday after he won the lucky draw. He did a lot of funny things during his tour until Cannes Film Festival. I wish i could watch it again. Very Very funny. I really hope there will be mr bean part 3 because i really enjoy mr bean's comedy since i was young. You guys should take this opportunity to watch, you will laugh a lot when you watch. LOL.
UEFA Champions League Trophy
After the cinema, I changed my shirt and went out again. This time is the UEFA Champions League Trophy that making its debut for the first time at The Curve, Mutiara Damansara sponsored by Heineken. The MC of the event is VJ Joey G and Jojo Struys. VJ Joey G went off early because he have something to do in Malacca. Fans who won exlcusive pass for two including me can up close and personal with the trophy. Actually this event is the conjunction with the grand finale of Heineken Champions League contest that the winner contestant will win a free trip to watch UEFA Champions League final in Athens, Greece. Besides the trophy, there are some football merchandises that displayed such as replica football jersey, star player captain armband, and some star player's football shoes. Even Simon and his friends attend the event and see the trophy. I was so surprise that i thought he couldn't come because of his birthday party at his house. He told me that he went to cineleisure damansara to watch 300 with his friends but the crowd sold out so no tickets for them. Finally, I drove back home about 11 something after my photos with the trophy. It was very unforgettable moment for me to touch and see the trophy for the first time in my own eyes since i start watched that trophy on TV in 1999 when Manchester United as the champion. I give my 2 exclusive passes to my elder cousin brother, Danny and his friend for tomorrow. I hope that they able to enjoy to see the trophy for their first time. I heard my another cousin brother, Chee Hoe and his friend also attend the event as Danny told me about that. But too bad they don't have exclusive passes so they couldn't up close and personal with the trophy. Ok, that's all about that, here are the photos i took during the event.
The trophy i took outside the stage. The people are so crowded with their handphone camera taking pictures.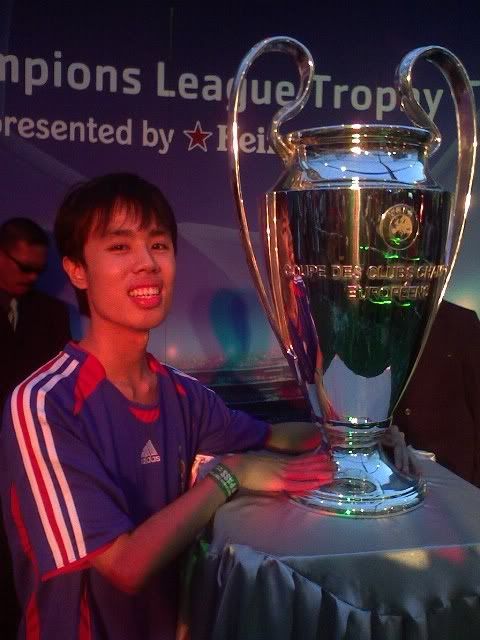 Me with the UEFA Champions League Trophy
I kiss the trophy for the first time. LOL.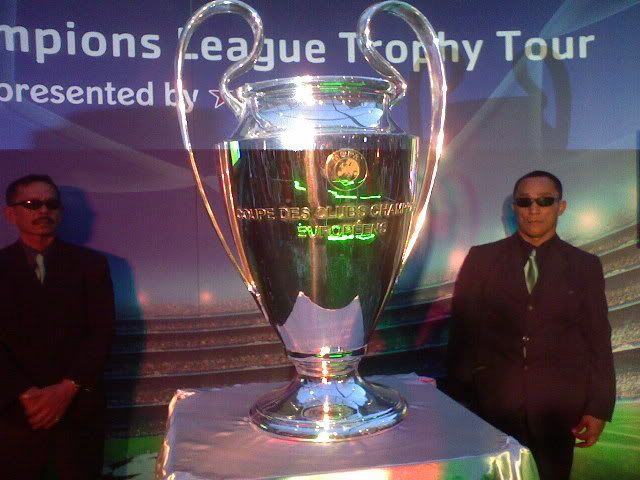 UEFA Champions League trophy i took on the stage
Replica Nakamura Jersey with his autograph
Replica Park Ji Sung jersey with his autograph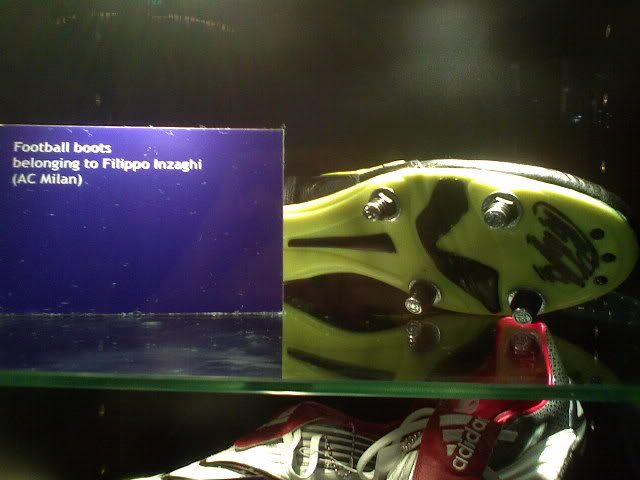 A pair of football shoes that belongs to Filippo Inzaghi
A pair of football shoes that belongs to Kaka
Francesco Totti armband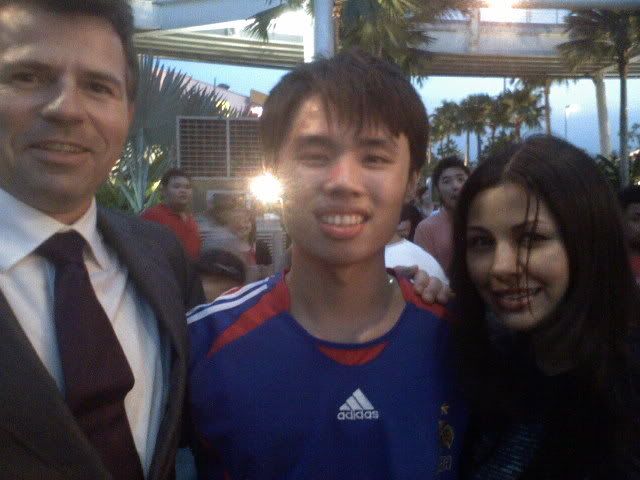 Me with the UEFA member official from France and host Jojo Struys
Me holding the ears of the trophy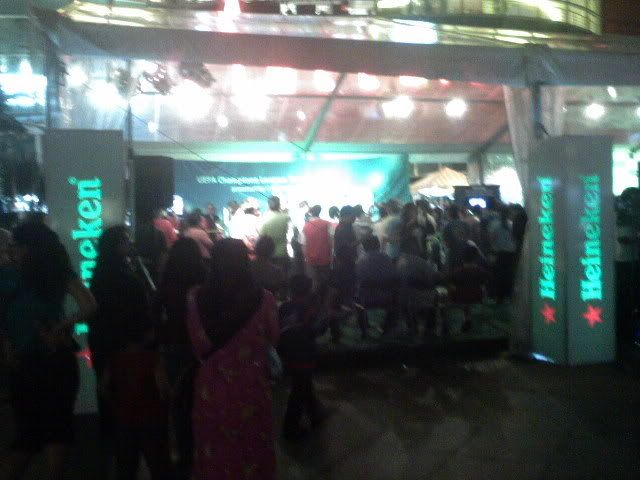 Outside of the event. Behind there is Cineleisure Damansara
Ching's album pre launch
Today 5 evening, I drove to Mid ValleyMegamall to visit Ching's first album launch in conjuction with the Aerospace Exhibition Fair 2007. When i was reach there, Ching's singing performance was just over. I was a bit dissapointed, but i still managed to meet, took photo and nice chat with her. I bought her album about RM28. That's a bit cheap. When she want to left the hall for her dinner, i take my time to see space exhibition. Not bad at all. After dinner at Mid Valley, I drove back home. My final say is congratulations to Ching for her first album, I wish her all her success in her album. :)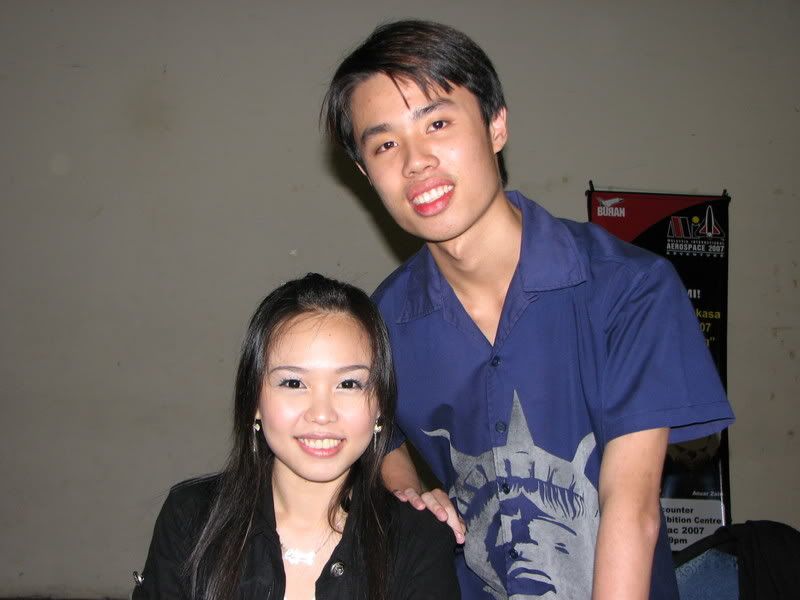 Me with Ching
Ching's first album i bought with her signed autograph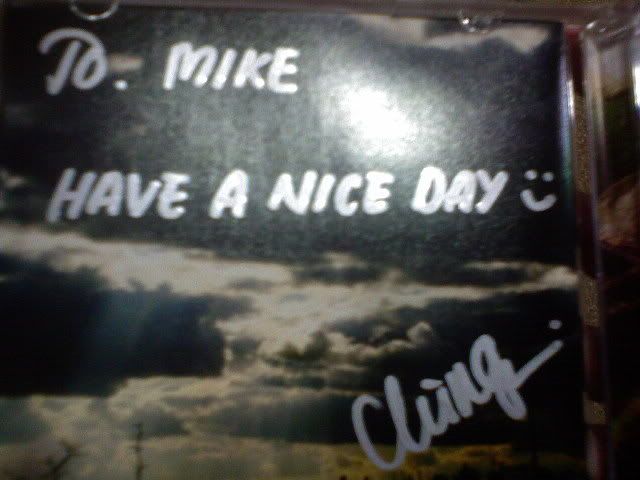 She write special message to me in her album cover. Hehe.....Thanks, Ching. :)
Ok, that's all the great activities i did during the whole weekend. Now, i looking forward for my 2 individual assignment that will start soon.