2006 World Champion - ITALY
Congratulations to the 2006 World Cup winners, Italy for beating France in a dramatic 5-3 on penalties after 1-1 draw extra time. It is sad to send off Zinedine Zidane by the referee in the last 10 minutes of second extra time after he headbutting the chest of Marco Materazzi for a moment of off-the-ball madness in his farewell match. I guess he must have said something that insult Zinedine Zidane or his family. Despite of the ugly incident, Zinedine Zidane still won the golden ball for the best player in this edition of world cup. Italy has now won the world cup for the fourth time to set alongside victories in 1934, 1938, and 1982. In the other match, Germany has won the third place after they defeated Portugal 3-1. Overall, this is one of best world cup i had ever seen in my life and thanks Germany for being a great host of World Cup 2006. Thanks to Zinedine Zidane for what he did for France in 8 years especially the best memory of scoring two header goals against Brazil in 1998 World Cup final. He will always be forgiven by his fans despite his dirty act to Materazzi. Happy retirement for him as well as Claude Makelele, Lillian Thuram, Luis Figo, Oliver Kahn, Pavel Nedved, and Francesco Totti. The 2010 edition of world cup will be held in South Africa.
French captain Zinedine Zidane viciously head-butts Marco Materazzi to the ground during the World Cup final.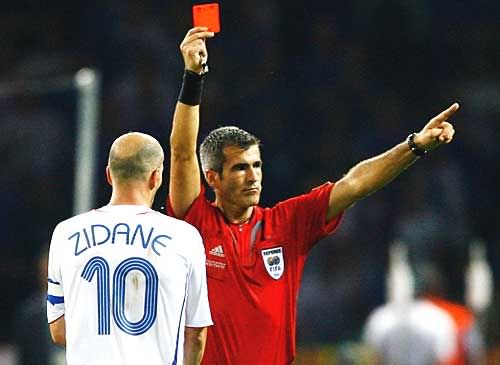 Zinedine Zidane was sent off by the referee for headbutting the italian opponent
David Trezequet miss the penalty after he kick the ball into crossbar.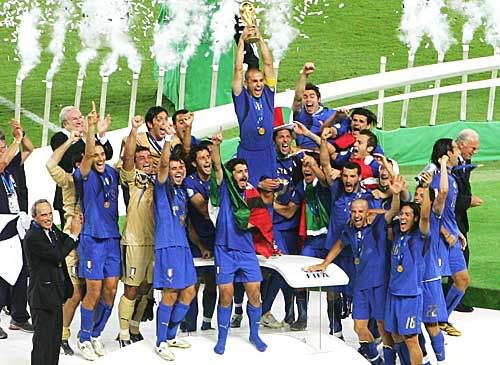 Italy- World Cup 2006 champion